Joshua Swanson: Welcome to The Walk, a devotional podcast led by worship leaders. In today's episode, Paul Wilber tells us the story of how Yeshua used a simple love song to change his life. Here we go.
Paul Wilbur: Hi everybody. This is Paul Wilber. You may know me from my messianic recordings with Integrity Music from the 1990s, like, uh, Shalom Jerusalem, Jerusalem Arise, where we introduced the song Days of Elijah, and many others. But my musical story goes much further back than those wonderful years with Integrity Music.
My Jewish dad handed me a Sears and Roebuck silver tone guitar at the huge price of $19 when it was brand new from a black and white catalog. From that point on music became a very important part of my life. Now, not worship, but music. While I was in high school, I began to write and record original music and actually got published by major publishing houses, and I, uh, had the joy of working under recording contracts in real bonafide recording studios in Manhattan. It was, you know, a time of the Beatles and rock n' roll in its, uh, starting stages. At 16 and 17 years old to be doing these kinds of things was such an amazing thing to me. From there, I went to college to study vocal music where my interest shifted, believe it or not, from rock n' roll to opera and, are you sitting down, sacred Jewish music? Wow. How did that happen? Well, I told you just a minute ago, my Jewish dad, so kind of his fault in a way. Although he wasn't Jewish so after four great years in college, I loaded a steamer trunk and headed to Milan, Italy to continue my studies in voice Italian and opera.
Now, back in Cleveland, after a year abroad where I taught high school music and guitar classes, I then went to, uh, Indiana University to continue my, my studies in a master's degree in vocal performance. So needless to say, I was very passionate about music and really committed to refining my talents and my gifts to be the very best I could at what I had chosen to do.
But then all of my diligence in training seemed to come to a screeching halt at graduate school when a pretty blonde girl invited me to go to church. Now, I wasn't interested in going to church. I knew what to expect in church music. Uh, organ and piano duets, maybe a trombone solo, uh, an old soprano with a vibrato as wide as Indiana. I wasn't looking forward to going to church. Um, but I was looking forward to go anywhere that this pretty blonde girl from Georgia with the, with the cute Georgia peach accent, uh, if she'd asked me to go to the laundromat, I'd been happy to go there, but anyway, so without going into all the details, suffice it to say that that morning I heard a sound that changed my life.
I'm even feeling the emotion of it right now trying to share it with you here in these brief couple moments, but a, a young guy who was about my age, 27 years old at the time, uh, and a guest that morning, he wasn't on staff or whatever. Uh, he got up on a bar stool on the platform with his nylon string and Lord helped me, he sang a love song to Jesus.
The effect on the atmosphere around me when he sang was so impactful that I wondered if someone was playing with the air conditioning in the room. In fact, I asked the young lady, why am I feeling a shift in my personal space. A few weeks later, uh, without all of the details, which would take way too long, but were so supernatural, I handed my life and my music aspirations over to Jesus. Who I later, uh, learned to be Yeshua, uh, the promised Messiah of Israel and the whole world. And this was when I realized that music was no longer my goal, but rather it became a tool to help me and many others do something very important to worship the Lord "in spirit and in truth."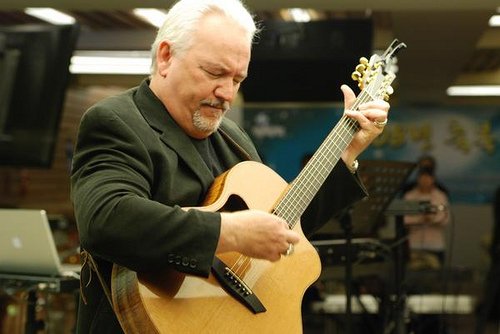 Very early on in my new career in music, I had to make a very important decision. Back in the 1970s with the rise of people like Michael W. Smith, Amy. Steve Green, Sandy Patty, and so many others having a major voice in the newly discovered contemporary Christian music arena. You needed to make a very important decision if you were a Christian in involved in music and especially if you were a Worship Leader. And this would not only determine the songs that you sing, but who, uh, you would walk with and if given the opportunity, who you would sign a contract with in order to promote what you do, where you go, the songs you sing, the intention of what you're doing. So instead of, uh, saying yes to Sony and RCA, uh, very early on, after being a new Believer, I signed with Zondervan Corporation who had just published the New International Version, which became my, uh, my pocket Bible of choice even to this day.
Uh, from there I signed with Maranatha! Music and then in 1990 with Integrity Music that I stayed with for nearly 30 years, but it was intentional. It was because these companies saw the purpose and the plan for sound and music being an offering to heaven and an invitation to the earth. So, what do I mean by that?
I discovered early on the power of sound was not so much to shift the atmosphere, like I felt that first day as it was to shift the hearts of men and women. The power of sound to impact the whole experience of man all at the same time. The sound in music that has the ability that nothing else I know possesses in this dimension of life. It's the ability to move our entire experience as human beings all at the same time, our body, our soul, and our spirit. And through the sounds, we can speak to heaven and to one another, all at the same time. We can provoke the presence of the Creator, because in that famous verse of Psalm 22 written by King David, "He inhabits the praises of His people."
Another translation says that "He is enthroned on the praises of His people." And another translation even says that "He is or becomes the praise in the mouth of His people."
My friend, uh, Phil Driscoll, uh, I heard him do a teaching years ago saying, uh, "become the praise." So if you are a Worship Leader or you're part of a worship team, you have a very high calling, a, a very high privilege, and dare I say, responsibility. Uh, what we sing and play, how we present those sounds and ourselves are also important because we are ministers. We are Levites and priests of a covenant, and we represent a King.
Joshua Swanson: After the break. We'll hear what Paul's lifelong calling has become after five decades in ministry. But first, would you be so kind as to take a moment and review our podcast on your favorite platform? Our show is still relatively new and your feedback, your comments, your reviews, they really help. Thanks.
Paul Wilbur: Okay. Here's more from Paul.
So let me put it this way; here's what has become my lifelong goal in this high calling: to know Him and to make Him known. Let me say that again, because that is so all-encompassing, to know Him and to make Him know determines the books I read, determines the people that I hold closely as friends, those who I spend my time with, um, even on YouTube and, and the, the podcast, hello, that I listen to. Are they edifying me? Are they causing me to grow in, in knowing him and making him known or are they taking away? Are they stealing the time and the precious memories of all of that.
Music and sound is powerful, but it's a tool and it's not a goal for me any longer. It's a, it's a tool to help me reach the hearts of men and to minister to the heart of my Lord, my savior, and my King. Who in turn, by the way, sings over me, songs of deliverance. That he uses those precious words to edify me, to encourage me. I was just reading this morning in 2 Timothy, that every word is useful for instruction. It's useful for reproof and for correction and for training and righteousness.
So my friends one last word, this is the text that I use to create these sounds and these, these songs to provoke heaven and to provoke the hearts of men. To know Him and to make Him known. And so at the age of 71 years, if you've done your math, uh, I'm still at it. I have more of everything I need than I've ever had before. And now my sons and daughters have fully joined me in this journey, in this ministry, in writing, in provoking, in producing in the travel and, and all of it. It's, it's generational. It's part of my blessing from heaven for giving over what I had into the hands of a King who never returns, what you give to him empty. But he always multiplies and returns it to you much more than you ever could present.
And so let me end here this brief time with you and I hope it's just the first of many times we can share on this most, uh, incredible journey of life together. Hopefully provoking you in what he's given to you, uh, to use it to the greatest of your ability for his great glory.
So in my Jewish tradition, if I may, in the book of Numbers in the Torah, chapter six in verses 24 through 26, it's the only prayer that I know of in all of scripture where the King has commanded us to pray for one another. And so let me pray this over you.
May the Lord bless you and keep you…

May the Lord make his face shine upon you and be gracious unto you…

And may the Lord lift up his countenance upon you, turn his face toward, and give you his peace…

In the name of Jesus, our Messiah the Prince of all peace. God bless you until next time I pray all of this and so much. Thank you so much for the privilege of sharing with you today. Pray that it's really blessed. Shalom.
Joshua Swanson: Thank you, Paul, for the prayer, the stories, and the wisdom. The Walk is a production of Worship Leader Magazine, which is an Authentic Media brand. Matt McCarty edited and co-produced this episode. Jacob Fairclough wrote our theme song. I, I also wanted to give a special shout-out to Steve Nicole from venture three media for connecting us with Paul. I'm Joshua Swanson. There's a song Paul wrote with his daughter-in-law Shea Wilber, and it's called, We Call Your Name, and here it is to play us out.