Brooke Ligertwood 000-28 Signature Martin Guitar – Review
If you're a singer-songwriter or if you're someone that sings out a lot, this would be that guitar because you are getting an experience with it and that's what you're paying for.
Brooke says, "After Martin Guitar* approached me in 2019 about creating my own Custom Signature model, we began the incredibly rewarding process of designing together – for YOU – what I believe is the best playing, highest quality sounding acoustic guitar I have played."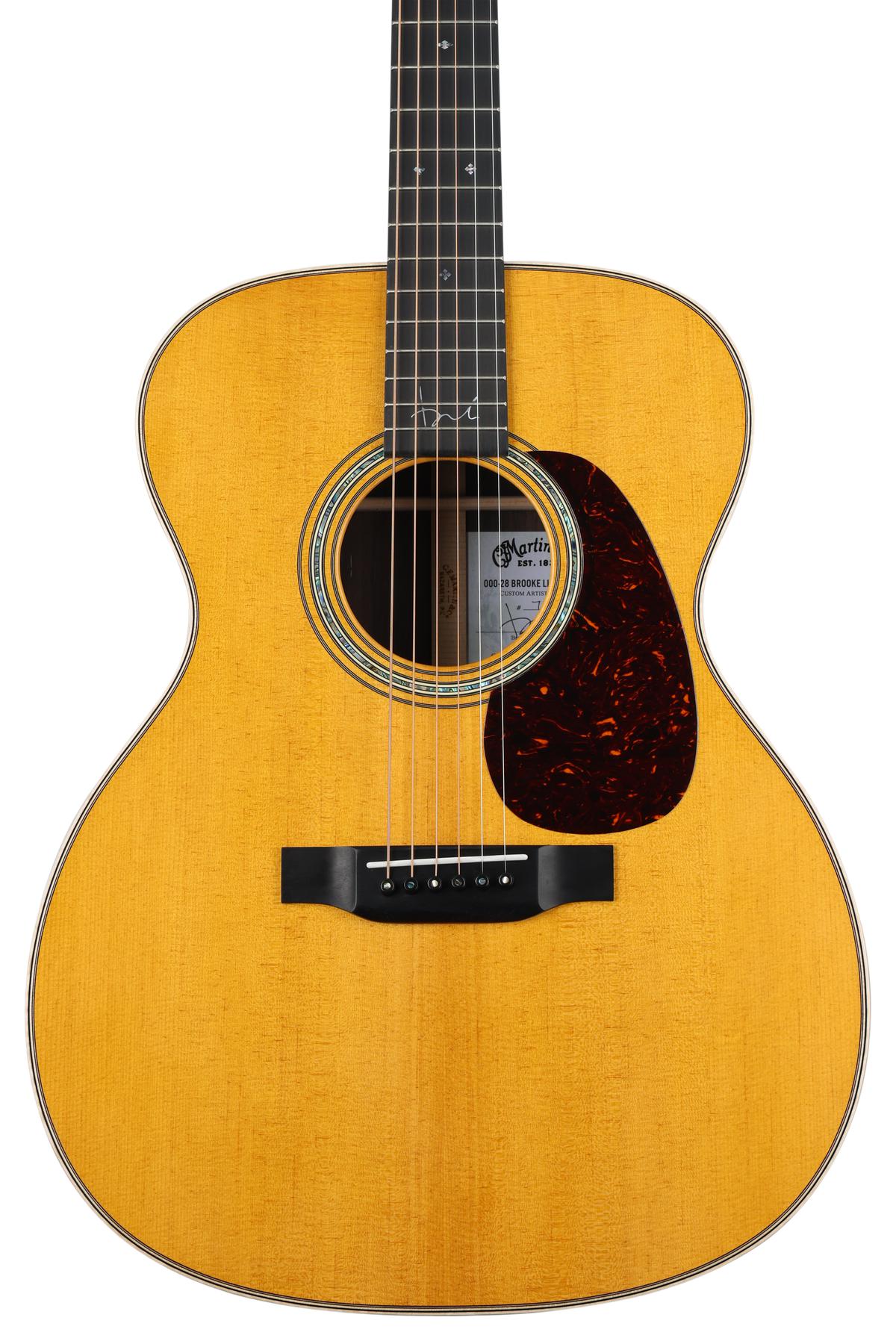 "We combined the elements I loved most of the guitars in my personal Martin collection, and the result is better than I could have hoped for. Over the past year, I have been exclusively writing, leading, and recording with this guitar. It has been thoroughly road/studio tested by me and many of the guitarists and engineers I work with, with the consensus being: it's a beauty."
From Martin: "This auditorium-style guitar is tastefully designed with a clean aesthetic and is available with and without a sunburst top. The model was inspired by a combination of Brooke's favorite aspects of Martin's Paul Simon and Eric Clapton Custom Artist models that are part of Brooke's collection. Personalized features on this model includes a simple wreath pattern inlay on the headstock, and Brooke's signature inlaid on the twentieth fret. It also includes a signed paper label that is numbered in sequence."
| Specifications | Martin 000-28 Brooke Ligertwood Signature Guitar |
| --- | --- |
| Body Shape | 000 |
| Top Wood | Sitka Spruce |
| Back & Sides Wood | East Indian Rosewood |
| Neck Wood | Select Hardwood |
| Fingerboard Wood | Ebony |
| Scale Length | 24.9″ |
| Nut Width | 1.75″ |
| Number of Frets | 20 |
| Electronics | Fishman Aura VT Blend with Enhance™ |
| Finish | Gloss (Top), Satin (Back and Sides) |
| Case | Martin 545E Geib Style Hardshell |
| Price | $3,599 USD |
– – – – – – – – – – – – – – – – – – – – – – – – – – – – – – – – – – – – –
Brooke Ligertwood's History with Martin Guitars
About James Galbraith
James Galbraith is a dynamic and creative pastor whose passion for inspiring and empowering individuals to become the best version of themselves has made him a leader in his community. With a unique sense of humor and a gift for storytelling, James has a way of making complex theological concepts accessible and relatable to people of all ages and backgrounds.
Born and raised in New Zealand. James discovered his love for creativity at an early age. After traveling and helping build churches around the world, James landed in Nashville as a guitarist/songwriter for the band Here Be Lions, where he quickly became known for his innovative approach to ministry. Through creative and engaging pursuits, he was able to inspire people to develop a deeper connection with God and embrace their unique talents and interests.
Over the years, James has continued to hone his leadership skills, earning a reputation for his exceptional ability to connect with people on a personal level. Whether he's delivering an inspiring sermon, organizing a community service project, or simply chatting with people after church, James has a way of making everyone feel valued and appreciated.
Today, James serves as the creative/worship pastor of Hope UC Nashville. His vision for building a vibrant, connected community continues to inspire and transform lives, and he remains committed to empowering others to be the best they can be, both in their spiritual and personal lives.
Transcript
It feels I, I mean, it feels incredible, which is why it is what it is. You'd want this to feel incredible. And I think that's the bonus. This is the Brooke Ligertwood, the artist formerly known as Brooke Fraser. Which was a way easier last name to say. But you can tell right off the bat, this is a guitar that you will enjoy playing.
Sometimes you get guitars that just like you play them and sometimes they help you play. This is one of those guitars, probably. And I know this, I know this- like all these arguments about, well, you know, it's overpriced or it's this or that, but you're getting spruce on the front. You're getting East Indian Rosewood on the back. So you're going to get some tones out of it that you're not going to get out of the,
the other two that we play, the Dreadnought and the X, because you can just hear it. That warmth of the sound is coming from these different types of woods. It's not going to be as and I used the word plasticky before, but it's not plasticky, it's just bright. It's just a really bright sort of feel-sound. With this it's going to be your woods are going to just resonate that a lot more richly in these types of guitars.
Is it still going to be bright? No, not as bright as the others were. And that's probably a good thing. Yeah. It's just it feels to me it feels great. The action is absolutely perfect on it, as it should be. And you said a hand rubbed neck, which means there's going to be really easy to flow up and down the fretboard.
If I was going to play this out, this would probably be a primary main guitar that I would use all the time. So whether I'm playing fast songs, slow songs because it's a 000 it's still going to be, it's kind of like a little nice caboose on it, if we say. Which is going to be nice and get some of those bigger tones.
It's a versatile guitar that you can use in any situation- Is how I feel about it, just picking it up and playing it. So I was like, I would not be afraid to use this in worship set, an event that we have somewhere else at a stadium, or we might have somewhere local. This is the sort of guitar that I'd be like,
This would be my go to. That's going to cover all those bases. Now, this one does not have an electric system in it. So the integrity is just the guitar. So if you are wanting to play this, somewhere with a sound system, you would have to put a pickup in it. Which there are plenty to choose from.
There are even portable ones where you put them and take them out, depending on what you need. But they have kind of- keeping the integrity of the guitar as it is, and it's actually really light. It's a light guitar. Look at that, doing curls with this guitar. And if you know me at all, I don't do curls, I mean, look at me.
But this is a fantastically light guitar that packs a really good sound. And I want to take it home. I mean listen to that. Listen to the resonance of that. You know what it is? It's a bright summer's day. It's something that's just like- Actually, what I really think about. It's one of those, like, old- you imagine the 60s guys hanging out, the ones that you think of, you know, like Simon and Garfunkels and the, and the Bob Dylans.
That're all hanging out like, Ya know, it's one of those type of things where you're like. It's got that grassroots sort of like organic feel to it where I was like, I'm going to write some, I'm gonna write some bangers on this thing. And they can be all sorts, all sorts of things. Anyway, I'm just messing around.
But you got great inlays here. But, you know, for me, all the bells and whistles, you're paying for the wood, you're paying for the sound, you're paying for the experience. And I know that sounds so cliche and so like, oh okay, whatever. I think for me, if I had this guitar in my wheelhouse, I'd have it and then it would help me do the things I do well.
And if you're at that level, where you're like, Hey, I want to drop this much money on a guitar like this. It's a no brainer for me to be like, Yeah, I'm going to put this in my, in my collection. Or if it's going to be my only guitar, this would be the one to go to. If I want to step up from one of the others and I want to really splurge.
This would be a great guitar for that. If you're a singer-songwriter or if you're someone that sings out a lot, this would be that guitar because it's- you are getting an experience with it and that's what you're paying for. Call me egotistical. I don't know, but I'm not a big fan of signatures, even though if
they're on the back of the headstock this is great for me. But that's just a preference thing. Everyone's got their own preference. But I do like these little intricacies on the headstock there where you've got the two little Caesar and Caesar-type things. I do like that stuff. These are, these pegs are really cool too. They're not traditional plastic pegs and they feel great.
And I like it because they feel sturdy. And that's just a marketing thing which I really enjoy. But that's- it's strong. It means it's made with quality. There's been some integrity put into it. The bridge is great. These pegs down here are great, the inlay's great, the wood's great, strings are great. A T-shirt that I wear with this is probably going to be something.
Let me think about this because I really want to answer this honestly with integrity. Now, I think a sand-colored khaki shirt that is buttoned a little lower than you normally would and somehow it's okay because you are who you are. But, uh, not to count out you ladies. But yeah, it's a good Americana. It's an Americana-type thing. And I know Brooke.
Brooke, dear, I know she's not American. She's from my neck of the woods. All right. That's a cut. Thank you, James. Good job, brother. Nice- nicely done. Yeah, thank you- That was good. Thank you. Thank you so much. Was it all good? No, no, you did great. Thank you. Appreciate that. That was a good day, Raul. That was a good day. Got a lot of good stuff. Woo! Haha.
Coming James? Yeah, yeah, yeah. Raul, you have to pick up your kids, yeah? Yeah. Gotta get going here soon. Okay. Yeah, we're done. It's great. It's really great. You almost done James? This guitar's so good. Oh, yes. that felt… You, you coming, James? Uh, yeah! Yep, yep. We're all done. Great. Great job. Great job today. Guys? Hey.
Hey, guys. I'm still in here. I just had a few more things to play. Please don't lock those doors. Hey, Josh, you know how I am in the dark.
*Our website is supported by our users. We sometimes earn affiliate commissions when you click through the affiliate links on our website. Clicking these links is a great way to support our website and costs you nothing. Contact us with questions.
Editorial Team
Over the last 30 years, Worship Leader Magazine has been blessed to have many different contributors on the editorial team - this is their archive.