Guitar Review: Martin Dreadnought Jr-10E Acoustic + Electric Guitar
The Dreadnought Junior is designed for players looking for a big Dreadnought sound in a slightly smaller body.
James Galbraith came to the studio to play and compare three different Martin Guitars. The first guitar is small, but packs a big punch; The Martin Dreadnought Jr-10E Acoustic/Electric guitar*.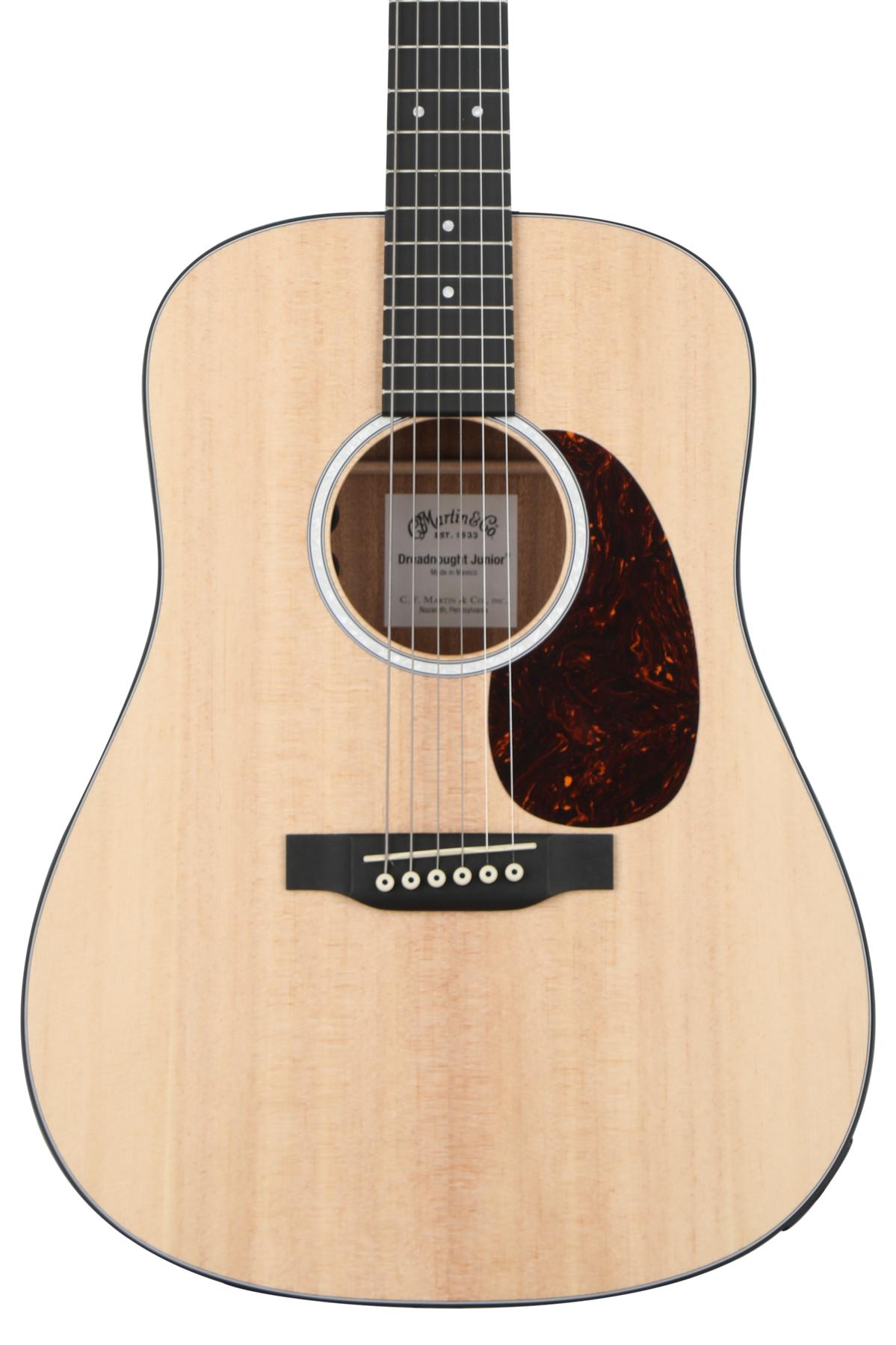 According to Martin: "The Dreadnought Junior is designed for players looking for a big Dreadnought sound in a slightly smaller body. The DJr-10 features a satin-finished Sapele back and sides in a rich cherry hue, an option of satin-finished Spruce or Sapele top, and a hand-rubbed neck with a high-performance taper. This model also sports a thinner 000 body depth with softer back edges to provide maximum comfort while playing. Every Junior includes a soft gig bag for easy transport."
Features
$499 – $599 Depending On Features
Body Size: D Junior-14 Fret (000 Depth)
Finish Top: Satin
Construction: Mortise & Tenon Neck Joint
Back and Side Finish: Satin
Bracing Pattern: X-Brace
Scale Length: 24"
Brace Shape: Scalloped
Fingerboard Width at Nut: 1 3/4"
Top Material: Spruce or Sapele
Neck Shape: Dreadnought Junior
Back Material: Sapele
Neck Taper: High-Performance Taper
Side Material: Sapele
Electronics: Optional
About James
James Galbraith is a dynamic and creative pastor whose passion for inspiring and empowering individuals to become the best version of themselves has made him a leader in his community. With a unique sense of humor and a gift for storytelling, James has a way of making complex theological concepts accessible and relatable to people of all ages and backgrounds.
Born and raised in New Zealand. James discovered his love for creativity at an early age. After traveling and helping build churches around the world, James landed in Nashville as a guitarist/songwriter for the band Here Be Lions, where he quickly became known for his innovative approach to ministry. Through creative and engaging pursuits, he was able to inspire people to develop a deeper connection with God and embrace their unique talents and interests.
Over the years, James has continued to hone his leadership skills, earning a reputation for his exceptional ability to connect with people on a personal level. Whether he's delivering an inspiring sermon, organizing a community service project, or simply chatting with people after church, James has a way of making everyone feel valued and appreciated.
Today, James serves as the creative/worship pastor of Hope UC Nashville. His vision for building a vibrant, connected community continues to inspire and transform lives, and he remains committed to empowering others to be the best they can be, both in their spiritual and personal lives.
Transcript
When I look for a guitar, it's all about feel, primarily. So, it's all about… I know it's going to sound crazy, but it's almost like the guitar chooses you. You pick up a guitar and it can be any kind of guitar. And Martin's do this so well anyway, Martins, all these different brands. But you pick up and, they understand the feel of a guitar player and what they want to get through.
So I think when I pick up a guitar like this, I'm automatically gonna go with feel, what's the action like, is it playable cause, when I play, I'm playing mostly to an audience and so I want to make sure that the guitar has a really good sound coming out and that feels good, so that I feel the most comfortable playing it. Because when I'm in those environments, I want to make sure that I am confident with the, the tool that I have in my hand to be able to do the best I can with the gift that I have.
So feel is obviously the balance of the guitar for me. I don't want it to be too heavy. So this guitar is actually really great. It's not too light, it's not too heavy. It's kind of in the in between, it's got a bright kind of tone to it, which I like. So I can really push through the mix if I'm needing it to.
But then also- the action's really cool, the action probably for me could come down a little bit on the on the bridge side, I'd shave that down a little bit on this guitar.
But yeah, it's a really nice little punchy guitar. I'd totally have no problem using this in any sort of capacity, especially in what I do. For the purpose of this guitar, Sapele, whatever you call it, is holding up really, really well and I think it's- it looks durable to me. So it's a nice little travel guitar. It's a spruce front, which is great.
It's going to have some brightness to it. The neck actually feels great. It's actually a great neck. It's a small-scale neck. It's a great neck for your hand to move if you want to go up and down. So, like some necks, I say that because some are a little bit rigid when it comes to movement and certainly one doesn't have as much movement.
You can come up the fretboard as much as you want. And then the resonance you tell that it's bright. For me, if I was buying this guitar, I would buy and it would be, probably, a travel guitar. I could use that to travel. If I'm writing on the road or I'm doing anything like that. If I could throw it in the car, I could,
I could throw it- I could take it to a hotel room and I could just like bust out some songs. But it's, it's fully got the capability, which we know that I could take it as a back up into a show or some sort of event and go, This is going to do the trick for that. If I want something that's going to be bright and poppy and I need it just to be like really in the mix, it's one of those things that you can have as a back up.
It wouldn't be my primary, probably, guitar, just because it's a little too bright, but it's a great little guitar that you just want to grab and have in your arsenal. So this is a hybrid acoustic-electric so you can plug it in. It's got a Fishman pickup in it, which is great. Fishman pickups are good and it's got- looks like it's got a volume and a tone.
So you got a volume control here as well, which is really great. And you've got a tone control as well. If you want to muddy the waters a little bit going through the, going through your system. You can bring- you can dial your tone back and it's not going to get as much of that brightness. But typically most players that I know just have those full up and let the sound guy do whatever they're going to do.
But it's great that it's got the capability of doing that. So you plug into any system and then you've got- just got a myriad of other advantages by doing that rather than having to mic it up or put a pickup in it. You have a little bit more flexibility of how you want your guitar to sound, so you can stay more consistent. These are great cause they're a light string.
So light strings are great for this, but so if you like it, if you, you know, if your fingers get a little bit sore on different guitars, you can play with strings. For me, it's all just preference. Some guys I know like to have a really heavy gauge string, which means that the strings are like 11s or 12s.
And so it just- it darkens the sound. And so these are going to be a little bit lighter, which means that they have a little bit more flexibility, a lot brighter, and but they are great. And you can also do your bends. The outfit that I would wear with this guitar, Chelsea Boots, classic leather jacket, probably moto style.
And I would play it out here like this: Johnny Cash style. And you do the head bobs. It's is a good, aggressive, a beefy guitar, it's a gnarly guitar. So you're like, "Hey," you know what you're doing. You might even take your jacket off midway through and throw it somewhere. That's the kind of guitar this is.
*Our website is supported by our users. We sometimes earn affiliate commissions when you click through the affiliate links on our website. Clicking these links is a great way to support our website and costs you nothing. Contact us with questions.
Editorial Team
Over the last 30 years, Worship Leader Magazine has been blessed to have many different contributors on the editorial team - this is their archive.